Homepage of Marcus Christ
Buy It HERE
Check Marcus Christ Interview on Skilly Magazine!!!!
Marcus Christ | TripleHQ Exclusive Interview | @hotice07 | https://t.co/4tdpt18GQq pic.twitter.com/ezMzi82vI7

— TripleHQ (@TripleHQ) February 25, 2018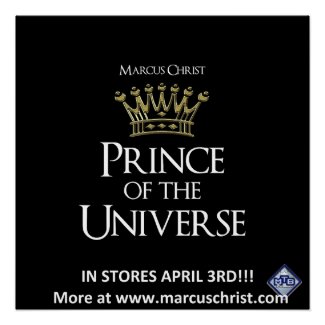 New Review For Marcus Christ's single "If I Knew" on Stereostickman.com
Click here or on their logo below.

Hebrews 1:2 In these last days he has spoken to us by his Son, whom he appointed heir of all things, and through whom also he made the universe.
FREE Download: The Day That You Told Me
FREE Download: The Weekend
New YouTube Video "Hate On Me" by Marcus Christ
Marcus Christ's You Knew That comes as a melodic meeting of rap and r&b. The verses offer a detailed account of the track's concept and the experiences that led to the storytelling. There's a lot of lyricism, the verses have the extended length of rap, yet this echoed melody used to express it adds a certain alternative edge that gives the track character.
The backing track featured showcases a structurally thoughtful piece of music that again fuses the thickness of a mellow hip-hop beat and the electric energy of a synth driven wave of riffs. The opening few bars of music and indeed the final few moments re-iterate the clever use of structure within the production. The leading artist's vocal performance on top of the mix however is the primary driving force behind the song and its sentiment, and it's this that you're likely to take away from the experience after listening.
There's definitely a further sense of character and individuality to the performance. Elsewhere within Marcus Christ's releases this same thread of individuality continues to show itself – If I Die Tonight is a strong example. This manic fusion of vocal parts is something you come to expect from the musician and songwriter. The lyrics follow a certain pathway that shows itself to be a lasting trait of his work.
There's a distinct level of hip-hop inspired energy and style to Marcus Christ's music, though the influence of other genres comes through in his use of melody, in the instrumentation portrayed in the mix, and quite often in the subject matter and the way certain ideas are expressed. The independence and individuality of his work is something that speaks volumes.
Now I'm wonderin' where your heart is
Girl I love you but you're heartless.
Download If I Die Tonight via CDBaby. Find & follow Marcus Christ on Facebook, Soundcloud & Twitter.
Rebecca CullenMusician & writer with an MA in Songwriting.
Read it all at: http://stereostickman.com/author/stereostickman/
COMPTON, CA – Marcus Christ has a deep love and appreciation for the great hip-hop albums of all time. When he thinks about the tapes and records he listened to as a child that made him fall in love with the genre, he remembers how artists back then not only created amazing music but also put together projects that were tied together with themes that were reinforced by skits and stand-up comedy.
It's that idea that he wants to bring back to the table for today's hip-hop music. So his new double-album "Prince of the Universe by Marcus Christ," will be more than a mere nod to those old albums. It will be a new version of that idea that's fully embraced by featuring his own skits and stand-up as transitions between songs.
"I just got out of jail in November and I have a lot to say," Marcus Christ said. "I mix, produce and compose my own music, and this project will have one disc that features other producers and one disc that has songs I've created myself with lyrics that I've written. You'll be able to see that I'm not an ordinary rapper – I can sing and do stand-up, as well."
Marcus said he chose his stage name intentionally, despite the fact that it could cause some controversy within religious circles. He wants his name to be a nod to the kind of music he makes, and for him that means he's the savior of hip-hop.
"That goes back to 10 years ago when people were saying that hip-hop is dead," he said. "Today I don't think it's dead, it's just watered down. And so this album is gritty, underground truth with unadulterated truthful lyrics. I'm bringing something to the game that you've never seen before. I'm igniting a spark and providing a catalyst within the hip-hop genre. At the end of the day it's more about bringing a reality to something we can hear. It's about bringing more entertainment through these stand-up moments throughout the album. There are not a lot of rappers who rap and sing, either. So through all of those things I want to be able to give people inspiration that there is still real music out there and somebody is writing songs that people can relate to and listen to on the bus or driving home from a long day at work. I want people to understand that I'm not an ordinary artist – I'm a prodigy, and that term should not be used lightly."
Two new singles showcase that unique sound and style. The first is called "I get high on the most high," and Marcus said it's a song that has lyrics that are easy to learn and sing along to. It's a feel good song, he said, about "getting high and wearing a tie," or "getting high on your knees."
"It talks about God while using that main phrase on the hook," he said. "It's something you would smoke to and has a vibe that almost lulls you into a dream-like state because it's hypnotic and trance-like."
The second single is a song called "If I die tonight." He said it's a song that's uplifting and he hopes that it will be inspiring for people who are depressed or worrying about their problems.
To listen to Marcus Christ's music or to follow him on social media, please visit the following links:
Twitter: @hotice07 Facebook: mtbMoney
YouTube: thatruprofit
Soundcloud: marcus-todd-brooks
Website: http://www.mtbentertainment.org
Sign up to our MtB Entertainment Newsletter here for inside information, upcoming shows, new songs, and MtB Entertainment scoops.
New Marcus Christ Interview On Skill Magazine Online!!!!
Source: (http://www.thisis50.com/profiles/blogs/thisis50-indie-artist-spotlight-marcus-christ-aims-to-save-hip-1)
Marcus Christ: There's Great Responsibility Involved With Being A Label Owner
"When you have a music label and you are the artist, self-control is very important."
Check out the interview with Marcus Christ exclusively on Skilly Magazine Online.­­­­
Skilly: Where did this all start? Tell us about your journey in the entertainment business.
Marcus Christ: My journey into the music industry is an unlikely one. Before I started singing or rapping, people were telling me how impossible it is to blow up. I started recording my music after my step-dad was sentenced to 14 years after being found guilty of conspiracy to sell narcotics. I started rapping to tell the world about his innocence in my song Mommy Got Some Problems. Since then I've written 4 albums.
What would be your biggest piece of advice for the young kids out there trying to do what you do?
My biggest piece of advice to any kids that want to do what I do is finish college before I did at 30 years of age. My mom is a firm believer in class. If she didn't have her degree from University of Maryland I wouldn't have been in my town house or in my safe neighborhoods as a child. It's not easy picking a career.
What are some of the hardest challenges and tasks in your position?
When you have a music label and you are the artist, self-control is very important. I can't invest all my money into one area because we need promotion, equipment, legal, medical, so on and so forth.
We all know the entertainment business is very tough, but what do you find is the best way to promote and advertise your music?
Streaming. Can I tell you why I'm mad? Can I keep it real wit y'all? Fuck Pandora. I'm on Spotify, I'm on Tidal, I'm on Iheartradio, etc, but Pandora acts like straight bitch ass lames. I sent them edited music like "We Got These Issues" about all of society's issues we need to address, and they keep declining me with no reason given. It's not their policy to say why.
Tell us about your city. How are the artists and the fans?
Compton or PG County, Maryland? I suppose I should tell you about both since they are both vital in my upbringing. I enjoy both coasts honestly. You can't really compare them. I will say I have way more friends in Maryland, but I love Compton's location. Compton is known for really big acts. Most people I know in the DMV (DC, Maryland and Virginia) work for the government.
Where do you see yourself a year from today?
A year from today the album will already be in stores so I can relax a little. Maybe wear some khakis and a polo. Me and my girl can go to a Broadway play or hit a restaurant and not worry about our cards getting declined. I may work on some actual performances or shows. I may not. I'm still discussing it, and my probation officer has to clear it first. Hopefully a year from today I will be off probation and lawyer free.
Who and what were your biggest inspirations? Who do you look up to in today's world?
Most people know how I was inspired by Michael Jackson, 2Pac, Prince, and Whitney Houston. I dated a girl once who told me she liked classical music. At first I thought it was strange, but then I started to think about movie soundtracks (score) or famous compositions by Mozart, Bach, or Beethoven it makes sense. So now I like to play around with classical sounds when producing.
How do you feel about the music coming out today? Do you like it?
The music today needs to be vetted. Not everybody likes the same kind of music. So just because I'm not feeling something doesn't mean it's not good. Since I've been out of jail I've been writing, and I haven't been listening to a lot of new music so I'm not too heavily influenced by someone else when I record.
Where can we contact you and find you online?
If you want to find me just look up Marcus Christ on Facebook, Youtube, Twitter, or Instagram.
Official website: www.mtbentertainment.org
YouTube: www.youtube.com/channel/UCWsJGvJpZzMBOC92yHZpT_g
(Source: http://skillyonline.com/marcus-christ/)